Welcome to Tía Tula Spanish School
Tía Tula Spanish School is a high quality international school situated in the historic university district of Salamanca, Spain, the region's academic capital, where Spanish was born and which is world-renowned in teaching the language. The school is surrounded by astonishing monuments in the heart of student life, right in the city center. Thousands of foreign students come to learn Spanish each year in Salamanca as it is safe, full of history, and has a young atmosphere and quality of life. Our building, with a beautiful and traditional style, has been refurbished and equipped with modern facilities, the latest audiovisual technology, and cozy classrooms with views to the main monuments.
In Tía Tula we are passionate about the Spanish language, teaching foreign students and training Spanish teachers. Thi (...)
See more...
School Facilities
Computers / Internet Access

Self Study Room

Snack Bar / Canteen

Disable Access

Library

Multimedia Facilities
What People Say About
Computers / Internet Access (Rate 5.00)
Self Study Room (Rate 5.00)
Snack Bar / Canteen (Rate 5.00)
Disable Access (Rate 5.00)
Library (Rate 5.00)
Multimedia Facilities (Rate 5.00)
Key Facts
40
Nº of students (low season)
70
Nº of students (peak season)
Wall
Nothing in the wall yet :(
Latest Videoss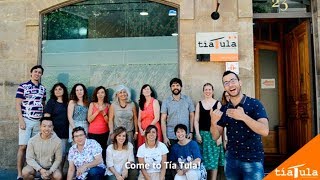 See more
Location
Calle Palominos, 23Salamanca / Castilla y LeónSpain - 37008
+34 923210283