Welcome to Oxford House College London
London is one of the world's most amazing cities and has inspiration, energy & vitality. The world's iconic tourist capital has everything to offer students with world-famous sightseeing, shopping and incredible architecture, all within easy reach of the OHC Oxford Street location. Our central location is ideal for exploring this fantastic city.
We are situated right in the city centre in Great Chapel Street, just a few metres off Oxford Street, near to department stores, fashion outlets, restaurants, cafés and theatres. The Centre itself is equipped with excellent facilities to help ensure you gain the maximum benefit from your English studies.
FACILITIES
• A large library with a wide range of reference and study material and an (...)
See more...
School Facilities
Computers / Internet Access

Library

Multimedia Facilities

Self Study Room

Snack Bar / Canteen
What People Say About
Computers / Internet Access (Rate 5.00)
Library (Rate 5.00)
Multimedia Facilities (Rate 5.00)
Self Study Room (Rate 4.00)
Snack Bar / Canteen (Rate 4.00)
Key Facts
100
Nº of students (low season)
210
Nº of students (peak season)
Wall
Nationality Mix
Spain

Italy

Switzerland

Argentina

Brazil
Latest Videoss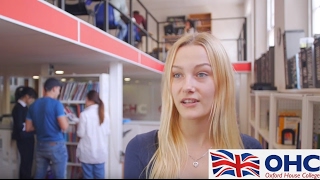 See more
Location
24 Great Chapel StreetLondon / EnglandUnited Kingdom - W1F 8FS
+44 (0) 20 7580 9785
RECOMMENDED PAGES