Welcome to Malvern House Brighton
Malvern House Brighton is an independent English language school which was established in 2019 and is the sister school of Malvern House London. The school is accredited by the British Council.
It is ideally located close to the city's main amenities and attractions in the heart of Brighton. It is just 5 minutes walk from the train station, 15 minutes walk from the coach station and seafront and 5 minutes from the city centre making it the ideal place to experience everything Brighton has to offer with easy access to tourist London which is just 50 mins by train to London Victoria.
Malvern House Brighton offers first-class teaching, supported by the latest technology. Our school is located on Queens Road  in the heart of central Brighton ,close to Brighton train station. It is homely, comfortable and welcoming, comb (...)
See more...
School Facilities
Common Room / Lounge

Computers / Internet Access

Library

Multimedia Facilities
What People Say About
Common Room / Lounge (Rate 5.00)
Computers / Internet Access (Rate 5.00)
Library (Rate 5.00)
Multimedia Facilities (Rate 5.00)
Key Facts
55
Nº of students (low season)
140
Nº of students (peak season)
Wall
ON YOUR FIRST DAY
STEP 1
Your first day is very important, so please arrive at the school EARLY:
Morning Students Afternoon Students
8:30 am (15/20/25 hours) 12:00 pm (20/25 hours)
02:00 pm (15 hours)
When you arrive in the school, please go to RECEPTION – Malvern House staff will show you where to go next.
Please bring these items with you on your first day:
Your passport with visa or national identity document for EEA students. (Please note,it might not be possible for you to join a class until we confirm your ID)
Confirmation of Enrolment letter
£35 to buy your first course book (or as deposit for a loan copy, for students studying for 3 weeks or less)
STEP 2
INDUCTION MEETING: Welcome meeting – introduction to the school and Malvern House staff. This will take place during the first part of the morning or afternoon.
STEP 3
YOUR FIRST CLASS: Please go to your first class after the break on your first day (10.30 am or 3.45 pm). Your teacher will be expecting you.
read more
Nationality Mix
Italy

Brazil

Turkey

South Korea

Colombia
Latest Videoss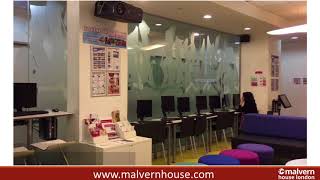 See more
Location
20 Queens RdBrighton / EnglandUnited Kingdom - BN1 3XA
+44 1273 661575