TOP 10 of the best trips for students - Summer 2019
Previous
Next
10 of the best trips for students
Looking for inspiration on how to fill that three-month break? We asked current and former students what they did last summer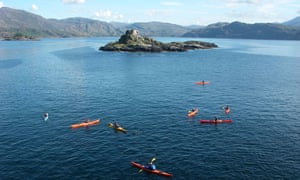 Float your boat ... sea kayaking in Scotland
Scotland
Hot weather is better in Scotland. All that gorse and turf gets gently cooked and starts to steam, wafting the smell of hot foliage over water and land.
Stuart and Ben, who met us off the train in Fort William, were our guides through two days and a night of kayaking in the wild.
All I could hear as I glided over Loch Ailort was the swish of my paddle. We arrived at our campsite as the sun began to dip – arms aching, noses peeling. We dragged our kayaks up the beach, pitched tents and slumped on to the springy ground. Out to sea sat the islands of Eigg, Muck and Rum – slowly fading into the gloaming as we chatted about paddling and sunburn. Cocoa sent us to sleep with the darkness; we were woken by a lapping loch, bright light and birdsong.
Workaway, worldwide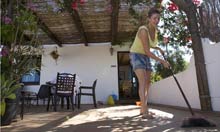 Gemma doing a spot of housework in Spain. Photograph: Anna Batchelor
When I arrived at my Workaway placement, I very nearly punched the air and hissed "yesssssss!". I knew a paid-for holiday in the pretty seaside town of Caños de Meca, on the Costa de la Luz in southern Spain, would be a joy, but I wasn't expecting my own sweet little villa at the foot of a riotiously colourful garden, a long empty beach over the road, and hippyish beach bars a stroll away, (help yourself) meals, beers, the use of a car, regular outings to nearby beaches and villages (such as beautiful Vejer de la Frontier, or the cool surf resort of El Palmar) all for free. In return I spent a few hours a day mopping the floors of my host Simone's holiday apartments, doing the garden, and playing with her lovely daughters. With the sunshine and gorgeous surroundings, it never felt like work.
Romania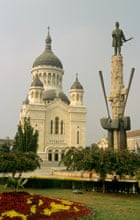 Cluj-Napoca cathedral. Photograph: Alamy
Transylvania's gloomy literary associations belie the fact that it's the perfect destination for a summer break with guaranteed sunshine and lively settlements nestling in the foothills of the Carpathians. Interrailing around western Europe is an increasingly expensive option for the skint student but Romanian Railways will carry you between the area's historic cities for under £10 on creaking communist-era rolling stock. Fly to the university city of Cluj-Napoca on WizzAir (from £54 return from Luton) and you'll find a centre filled with bars and clubs such as Insomnia (Strada Universitatii), a converted apartment attached to a small art gallery. It serves cheap beer to a bohemian crowd who will point you in the direction of the city's other clubs. A bed at Cluj's central Retro youth hostel only costs £11 per night. From there, catch a train to Sighisoara, a fantastical walled town – and birthplace of national hero Vlad the Impaler – before completing the return circuit via Sibiu, a recent European capital of culture. Beautiful cities, interesting people and cheap drink – all without running the risk of bumping into a British stag party.
Cuba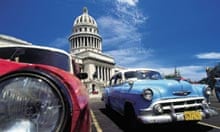 Havana Cuba travel
Havana's glorious crumbling architecture and Caribbean sunshine are obviously a big draw, but it's the vibrancy of the people that really makes Cuba special. So when the taxi driver pulled over on the side of the road and demanded to teach me salsa, all I could do was go with it. A great way to get a feel for the country and get close to the people (and also travel cheaply and eat good Cuban food) is to stay with local families in casa particulares – cuba-junky.com is a useful site that lists many of them. Our casa provided us with breakfast, dinner and a whole host of recommendations.
Travelling round the island was fairly straightforward thanks to the bus system and men in orange boiler suits whose job it is to flag down rides for hitchhikers. Should you fancy a substitute for the traditional British summer festival, make the 13-hour trip to Santiago, a city vibrating with beats and bands playing on every street corner. Head to Casa de La Trova for a taste of the original son, which inspired the Spanish poet Federico Garcia Lorca on his visit and where the locals were more than happy to teach us a few steps, but only if we could keep up.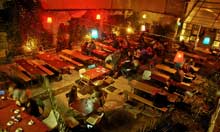 Szimpla courtyard bar
While many students will associate summer in Budapest with the Sziget music festival, the Hungarian capital itself has more than enough on offer to be a destination in its own right. The city is famous for its ruin pubs with their arty, underground atmosphere in hidden courtyards. Szimpla (Kazinczy utca 1, szimpla.hu) is the most popular. The Corvinteto Club on top of the Soviet-style Corvin department store (Blaha Lujzater 1-2, corvinteto.hu) is well-known for its reggae and dubstep nights and its rooftop bar.
For daytime sightseeing, most highlights are conveniently located along Andrássy út, with the House of Terror (terrorhaza.hu), dedicated to 20th-century Hungary's fascist and communist regimes, being a personal favourite. Stop by Menza for lunch (Liszt Ferenc tér 2, menzaetterem.hu); though not very cheap, it serves delicious Hungarian specialities.
The tiny, central Budapest Bubble (Brody Sandor utca 2), housed in an old building, is more like a home than a hostel. You're better off staying on the Pesta side for a relaxed yet vibrant atmosphere that attracts masses of friendly international students.
Ecuador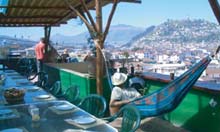 Secret Garden Hostel
Ecuador is considered one of the best places to learn Spanish in Latin America because of the clear accent and low prices. I enjoyed my stay at Quito's Secret Garden Hostel, a place that is quite rightly proud of its terrace's panoramic views over the historical centre and the Andes beyond. It has its own Spanish school and if you have more time you can apply for its one-month volunteer programme, where you work in the hostel in exchange for a bed, food, drinks, 10 hours of Spanish lessons and one night at its sister hostel by Cotopaxi volcano. Demand to work at this eco-aware hostel is understandably high, but it also has links with other organisations in the area, so you can also consider working on local environmental projects or helping conserve rare Andean bears.
Hamburg, Germany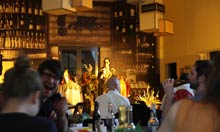 Kunstverein gallery
Hamburg is perfect for cheap travel. Most of Hamburg's best nightspots – the Funky Pussy Club (funkypussyclub.de), the uber-hip Golden Pudel (pudel.com) – are accessible by river, and boat rides (included in a daily travel pass: €9.60 for up to five people) run on the Elbe till midnight – with onboard drinking allowed. The Kunstverein gallery (kunstverein.de), open till 3am, is the bohemian hub of Hamburg. The gallery prides itself on a smoky, drunken atmosphere, complemented by the most attractive male staff in Germany. And if, like me, you quickly tire of red wine, it's only a 10-minute stagger to the Strand Pauli club: a recreated Caribbean beach on the Elbe, complete with real sand, beach huts and a huge outdoor dancefloor. Hamburg also boasts the quirky Miniature Wonderland museum (miniatur-wunderland.com, adults £12, students €9) with its 12,000 metres of miniature train track.
Macedonia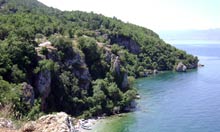 Galicica national park
Although Skopje, the underwhelming capital of Macedonia offers little to non-historians, the country's most popular destination, Lake Ohrid, is just hours away. When those hours are spent speeding through the majestic and rugged countryside by train, the ethereal folk songs of local women ringing in your ears, the journey is hard to forget. This Unesco world heritage site caters to all tastes and moods; spend a slow day lakeside pretending not to be impressed by the religious tolerance and harmony on display with mosques and churches strewn throughout the town and try not to salivate while tucking into the ubiquitous kebapi (kebab), which may whet your appetite for a night of intoxication. Climb aboard a boat party with the only other guests here – hedonistic Bulgarian and Albanians – and take in the stunning backdrop of the Galicica national park as it fades to black with another perfect sunset.
Cornwall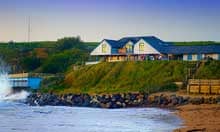 Life's a Beach bistro
On the north coast of Cornwall, Bude offers sun, sea and abundant surf for students on a budget. Bude Holiday Park (budeholidaypark.co.uk) is a short walk from the town centre, and tent pitches are a steal at only £8.70 per person per night in high season. The two main beaches, Summerleaze and Crooklets, both have broad sands and great surf. A half-day surf lesson with Atlantic Pursuits (, atlanticpursuits.co.uk) costs £25 and is all you need to get started. There is also a sea pool at the foot of the sandstone cliffs at Summerleaze and there are some great coastal walks close by too. Life's a Beach bistro (lifesabeach.info) on top of the cliffs is the perfect place to unwind at the end of the day – sit on the veranda and watch the scarlet sun set while enjoying an evening meal.
Following the coastal road south, stop at the tiny Crackington Haven for views of majestic cliffs, before driving southwest to Boscastle, a pretty town restored after the floods of 2005. A little further afield is the surfing hotspot of Polzeath, where Cornish pasties and bare feet are a must. Bude may not be a hub of student nightlife but it is the perfect base to explore the many beaches close by. The town itself has plenty of character and is radiantly peaceful; perfect for a quiet trip away with friends this summer.
Ibiza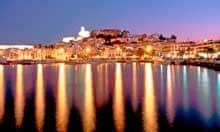 Ibiza Town. Photograph: Alamy
Ibiza is for late nights, long mornings and salty eyelashes. After a breakfast of melon and coffee at Hostel Talamanca, we took to the streets of Ibiza old town, wandering through patchy heat, hiding in whitewashed shade and drinking cola through a straw.
The best memories are of scrambling down to the sea from the summit of the old town and launching into a deep pool. Water in the shade is much colder than it looks. We dripped back to the hostel.
The afternoon started slowly – books, beach and sunglasses, with regular dips for temperature control. Playa del Talamanca is a family beach, but with a flock of great bars it turns into the long, Spanish night out. We took a taxi up to Restaurant Sa Caleta for their fabled paella.
Post written by: Hal Hodson
orgininal Article can be found HERE!