25 BEST EUROPEAN CITIES TO VISIT IN WINTER (UNTIL MARCH 2019) - Part 2: 11 to 25
Previous
Next
11. Amsterdam
Oh Amsterdam, Ohhhhh Amsterdam.
This list would not be the same without you!
Amsterdam is one of my absolute favorite destinations in the world. It goes the same category as Barcelona, Venice and other worldwide spots.
You can come here to party all night long. BUT…you can come here as well to enjoy a long day of rich culture. From art, museums, history, architecture….
Amsterdam is AMAZING! Sorry, but I cannot express my love for this destination enough. There is just something about it…
How to get to Amsterdam?
No question about it, Amsterdam is very well-connected within Europe and the world. There are numerous of cheap flights here, so this would be my best recommendation.
Find your flights with my friends from Kiwi.com.
KLM, the Dutch Airline, is based here, and they have sometimes really sweet offers. You can check their official website here.
FYI, KLM is a great Airline. It is really recommended, I always love taking them!
Where to stay in Amsterdam?
Soooooo many to choose from.
When looking for an apartment, I recommend the B&NOB Sosial Spaces. Stylish apartments in the very city center!
12. Venice (less tourists, more beauty)
Even in the colder month, I LOVE Venice.
Seriously.
I never thought I would fall in love with such a touristy city. But once you have been here, there is no way around it.
The touristy parts are mainly on Piazza San Marco and the main street taking you from Piazza San Marco to the train station.
Go left, go right. And get lost!
It is a big part of the Venice experience.
Therefore, my best recommendation for Venice would be: don't plan too much, just enjoy.
The only thing I would plan is the visit of the Doge's Palace and the Basilica Tour.
Where to sleep in Venice?
Sleep at We Crociferi Hostel.
It is recommended for all ages and types of travelers – unless you are looking for party!
It is a former monastery, located on the main island. You don't have to take a ferry to come here.
Around the corner you have amazing,non-touristic restaurant.
The best part?
The rooms come with a canal view. It is absolutely amazing!
13. Strasbourg (hidden gem)
Strasbourg is located in the Eastern part of France, right at the border with Germany.
It is a true European hidden gem!
The most beautiful area here is "La Petit France". It is an area with old buildings and canals wandering through the old town.
For me it is a romantic city break.
Find my full article on Things to do in Strasbourg here.
I also wrote up the best 10 instagram spots for Strasbourg.
I would stay here for 1 night and move on towards Paris or Switzerland. If you bring a bit more time and are keen to rent a car, head over to the small cities of Colmar and Besancon.
I included them as well in the 35 most beautiful cities to visit in France.
14. Zagreb
Have you considered Zagreb?
Zagreb is the capital of gorgeous Croatia. Croatia is actually known for its thousands of islands. Sure, those are the best destinations in summer.
For winter, I enjoy Zagreb. With all the cafés, the busy nightlife, street art and culture, it is a kind of unexpected joy to be here.
You should include this destination in your itinerary when traveling in the Balkans and East Europe.
15. London (free museums)
Another top city to visit in Europe during winter is: LONDON!
With all their free museums, it is perfect for families and couples.
And if you think "nah, museum are boring", think again!
London has museums for EVERYTHING.
If you are reaaaaly lucky, you will get a bit of sun shine…but more realistically you will have a grey sky and rain. Nevertheless, we are here for the numerous museums anyway. Here you can find a list of all the free things to do in London.
The British Museum is a must-visit!
The Science Museum and Natural History Museum even got into an epic twitter-battle of who has the better exhibitions.
Super curious to watch what kind of exhibition they feature.
16. Reykjavik (Northern Lights)
The Northern Lights are spectacular. It's seriously breath-taking.
You can only admire the Northern Lights in winter times, and only up in the North of Europe.
Therefore, go to Iceland, visit Reykjavik and the whole country.
Here is an interesting article to find the Northern Lights in Europe at winter times.
17. Sicily
Finally, another sunny destination.
Sicily has a mild climate in winter, yet it can get fresh. Here you can find the average climate in Sicily and all other destinations.
It's worth it to rent a car and drive all over Sicily – from Palermo to Catania to tiny villages. Although some places remain closed in the off-season, the beauty if the country remains. Take advantage of this!
And yes, you can find accommodation all year long, don't you worry!
The photo below shows the tiny, beautiful Castelmola, Italy.
18. Oslo
The Norwegian capital has two sides to it. The hills and the center itself.
I stayed at a camping site in the hill, overlooking the city of Oslo. Okay, I know, it's to cold in winter for camping but there are a few hotels around the hill side as well.
My nightlight in Oslo was the boat tour as well as the beautiful white Opera House. I sat here at the seashore for hours, reading the books of Jo Nesbø.
If I were you, I'd keep an eye on the events of the opera house.
19. Stockholm
Moving on in Scandinavia.
Stockholm is surrounded and basically build on water. It is the same story as Venice, yet it's not that touristy.
Get lost in the narrow streets, taste different pastries and wander the museums of Stockholm.
A must-visit is the ABBA Museum, the Swedish legend.
The Drottningholm Palace and the Royal Palace can also not be missed.
There is a tourist bus around the city. However, the more fun way to explore Stockholm is by Archipelago cruise.
Stockholm is beautiful. Just have a look at this video:
I think it's more special to visit during the colder months? Why? It's a big part of the Swedish culture, it's less crowded plus it gives you reason to enter more of their design-led cafes, restaurants and museums.
20. Moscow
Now it is getting really, really interesting.
Moscow, it actually stands for cold weather and lots of snow. In case you have seen photos from Moscow, it is very likely some of them were showing white Moscow.
The winter is really tough in Moscow, it is huge part of the culture. Therefore, I think it's worth it to come over here to experience it for yourself.
How to get here?
As it is quite far away to any other major destination, I suggest coming here by plane.
Find all flights to Moscow with Kiwi.
Where to stay in Moscow?
I found StandArt Hotel thanks to the network of Design Hotels.
The design is fantastic, same as the service. It is also really affordable!
21. Copenhagen
At the moment, Craft beer is very trendy around Europe. And Copenhagen is certainly a hot spot for this.
Try to visit a craft beer tour, even if you are not that into beer itself. It is really interesting.
Accommodation in Copenhagen
CPH is expensive in accommodation.
Preferring an apartment? Then get an Airbnb. Here is a 25€ discount for your first AirBnb stay.
22. Porto (a gem)
I already covered Lisbon in this list. But let us not forget about Porto. It is the pearl of the North.
Porto and its hilly neighborhoods are one of my favorite hidden gems in Europe.
With time moving on, more and more tourists discover Porto. Make sure you come here before it gets too busy.
The main highlight of Porto is, quite obviously, tasting a real Port wine.
There are numerous wineries in the area. You can even take a cruise to the wineries.
Make sure you wander along the rivers bench and take some photos of the Dom Luís I Bridge.
Good to know: There is a small cable car bringing you from the bottom of Dom Luís I Bridge up. In my opinion, it's not worth it the money.
23. Lyon (the better Paris?)
It is the Little Paris.
Maybe even the "better Paris"? It is definitely less busy than the world famous Paris. Many locals come here to live since it is still a big city, but not too overwhelming.
Even in winter times you can wander the old town, go shopping and dive in one of the finest cuisines of the world.
Many Michelin-star awarded chefs like Paul Bocuse are from Lyon or live here. So?
Lyon is a foodie paradise!
Talking about food. Head over to the local market "Les Halles de Lyon – Paul Bocuse". Here you can eat like a queen and king.
From the Basílica Notre-Dame de Fourvière you have a beautiful view over the city.
If you are planning to come by car to Lyon, this is where you can also park for free!
When you start to get cold feet, head over to Puzzle Café, downtown.
It's a small, cute, hip café with creamy coffee, design-led magazines and super tasty pastries.
24. The French and Swiss Alps
This list would not be complete without skiing and snowboarding.
The best spot to do so is the French and Swiss Alps. In Europe we say, "Skiing the big four: France, Austria, Switzerland, Italy".
A popular ski area is the Paradiski.com
You can also go for skiing in the Pyrenees. There you can choose between the French Pyrenees, the Spanish ones or Andorra.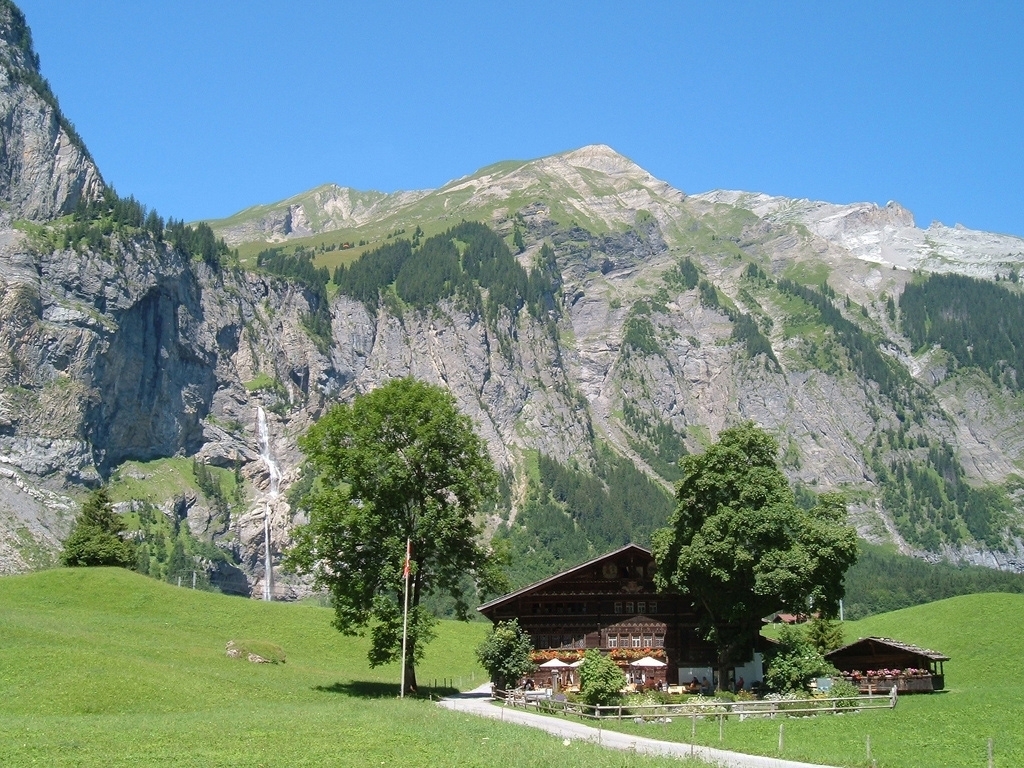 25. Budapest (Spa's and Nightlife)
First time I visited Budapest? It was February.
Deep winter. Everything covered in white, fluffy, cold snow.
It. Was. Awesome!
I visited the "museum of terror" (it was super interesting!) and I ate my way through different restaurants.
My highlight however was the Széchenyi Spa.
Although it was freezing outside, I visited the SPA. It has an indoor and outdoor area. You can be outside with a lot of things to do. And you can jump inside into the warm when it's getting to cold.
When you are done with the Széchenyi Spa, there are plenty of cafes, restaurants, spas, bars and indoor experiences.
I recommend taking a walk up or take the small train to the Budapest Castle. There is an Art Gallery inside.
Nearby you can also find the Citadella, a fortification located upon the top of Gellért Hill in Budapest.
From both points you have wonderful views over the city.
Looking for some nightlife? Well, in Budapest you will find it. There are rural bars and numerous nightclubs. Here is a guide to nightlife in Budapest.
Post writtem by: MATT - Matt loves bad puns in every language (even php), vintage cafés, and handmade design. At the age of 24 he decided to fulfill his childhood dream and move to Barcelona. Anna and Matt launched their business in 2014, the kick-off to the location-independent life.
Original Article can be found H E R E !