10 of the best outdoor activities in London
Previous
Next
10 of the best outdoor activities in London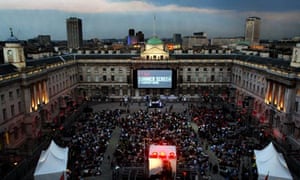 Summer in the city ... cinema at Somerset House, London. Photograph: Linda Nylind for the Guardian
Outdoor films at Somerset House
You can enjoy London's magnificent buildings without necessarily going indoors. One of the most magnificent is Somerset House, a neoclassical edifice on the Strand. Its lovely courtyard is a London hotspot in summer for open-air gigs and films, and in winter for ice-skating. The ice rink is hugely atmospheric, with carols, an enormous Christmas tree and a cafe serving mulled wine and cider. The eclectic programme of summer films is even better. Turn up early to make the most of the sunshine and DJs; take a lavish picnic – part of the fun is trying to outdo everyone else. You'll need something warm for later – a sleeping bag is perfect – and be prepared for a numb backside: there are no chairs.

Bandstand busking in Northampton Square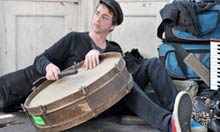 Bandstand busking, Northampton Square
Lots of London's open spaces still sport charming bandstands, but they are sadly under-used. Or they were until 2008, when Thomas Muirhead and Ian Sutherland had the bright idea of hosting acoustic gigs in them. Now regular gigs are held from May to October in around 20 bandstands across the city, but most frequently in scruffy Northampton Square, Islington, the home of City University. Past buskers include Mercury-nominated Ed Harcourt and Wild Beasts, and the fantastic Frightened Rabbit. Subscribe to the mailing list to find out where, when and who will be performing.

Opera in Holland Park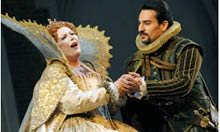 Opera, Holland Park
If the thought of opera conjures up intimidating people, places and prices, you obviously haven't heard of Opera Holland Park. OHP is an opera company staging performances in the west London park every summer, under a spectacular canopy with seating for 1,000 people. (OK, it's not strictly outdoors as it has a roof, but it's open at the sides and has picnic decks and terraces.) The opera itself isn't dumbed down in the slightest, with tickets from £46.50-£63.50, plus 1,200 free tickets for under-18s and subsidised tickets for over-60s. The atmosphere is informal and there are subtitles and online synopses. Holland Park itself has large areas of woodland and a beautiful Japanese garden.

Bird-watching in Barnes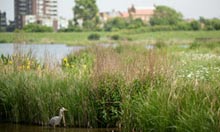 Bird-watching, London Wetland Centre, Barnes
The London Wetland Centre is the best place to go bird-watching in the capital, from wetland birds and wildfowl to migrating species such as ospreys. Every day there is a free guided tour at 11am and 2pm, and you can join the wardens for feeding time at 3pm. A real highlight is the imaginative programme of events: early opening to hear the dawn chorus, late opening for guided bat walks, wildlife photography courses, encounters with the small mammals and amphibians that also live at the centre … Combine your visit with a trip to another west London attraction, Kew Gardens, for a full day immersed in nature.

Pitch and putt in Alexandra Palace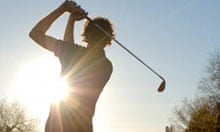 Pitch and putt, Alexandra Palace
Alexandra Palace might not have the biggest golf course in London, but the 10-hole pitch and putt certainly has the best views of the London skyline. After a round, picnic on produce from the Sunday farmers' market while looking for St Pauls, the BT Tower, the London Eye, the Gherkin and Canary Wharf. The grounds of the "People's Palace" also contain a boating lake, rose garden and deer enclosure, and there are regular alfresco events, including a spectacular fireworks display on Bonfire Night.

Swimming at Brockwell Lido
Swimming, Brockwell Lido
London's surviving lidos all have their charms, but this grade II art deco gem in south London takes some beating. Built in 1937, Brockwell Lido was restored to its former glory in 2007 and now has a great poolside cafe, which opens for breakfast and turns into a bar and restaurant in the evening. The Olympic-sized pool is open from April to October, with swimming starting at £2.70. Adjacent Brockwell Park is Brixton's biggest green space. If you prefer "wild swimming", Hampstead Ponds in north London is your best bet.

Rollerblading in Battersea Park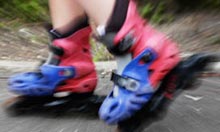 Rollerblading, Battersea Park
Battersea Park is a fascinating place, with views of the Thames, an art gallery by the lake, and a children's zoo. Instead of exploring on foot or by bike, try eight wheels instead: there is a free group skate every dry Saturday at 10.30am, starting at the Japanese Peace Pagoda. There are no hills or traffic so it's suitable for children and beginners. The Easy Peasy Skate, as it's known, is a good way to practise for more challenging city skating, such as the Sunday stroll and Friday night skate, weekly marshalled events through central London.

Kayaking at West Reservoir Centre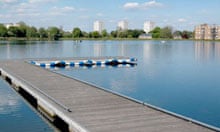 Kayaking, West Reservoir
Green Lanes is an unlovely stretch of traffic-choked road in north-east London leading up to Enfield. But it does have some great Turkish restaurants. And, more surprisingly, it has a little patch of watery heaven. West Reservoir is a relatively unknown watersports centre. Visitors can sign up for a sailing or kayaking course, or try a free kayak session with the Castle Canoe Club on Tuesday evenings (excluding winter) and Sunday mornings. If you're prepared to get wet, you can join in with a rollicking game of canoe polo. Lovely Clissold Park is a five-minute walk away, and Abney Park, London's enchanting nonconformist cemetery, is a little farther on.

Power-kiting in Richmond Park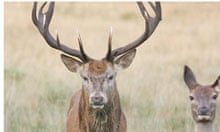 Power kiting, Richmond Park
London's largest royal park is the place to go for some serious sporting activity, from horse-riding to fishing. One of the most interesting offerings is power-kiting, where you sit in a buggy, stand on a landboard or wear a pair of inline skates and are pulled along by a kite. Kitevibe offers all kinds of lessons, including taster sessions for beginners, and even snow kiting when the weather allows – think sledging for grownups. If extreme sports aren't your thing, stroll among the 650 red and fallow deer that still graze the park, much as they did centuries ago (careful not to get too close).

Parkour in Westminster
Parkour, Westminster
The world's largest parkour park, Leap (London Experience of Art du depacement and Parkour), is opening in London this summer. Parkour, the art of negotiating urban obstacles using only your body, is practised informally around the South Bank in London, but the new park will be the UK's first managed venue. The 700 sq m site will be packed with walls, railing, platforms … everything you need to hone your skills. Beginners can join coached sessions, while members will have free rein. Leap will also host top-class events, where you can watch the experts.

Post written by: Rachel Dixon
orgininal Article can be found HERE!